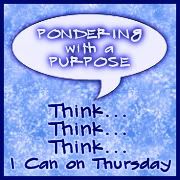 Welcome to Pondering with a Purpose
-
The rules are really easy:
1. Grab the Pondering with a Purpose Badge
2. Look at the week's prompt
3. Post something on your blog that relates to the prompt - it can be a story, a poem, a picture -- anything you want it to be.
4. Add the URL from your post to the linky list on her post.
5. Go check out the other bloggers who have added their links to the list.
6. AND most of all.... Have fun!
I have decided to join in with this hop. Some of you may know that I am an aspiring writer and I like to do little writing exercises to keep my brain fresh and see what I can come up with. So most of the time I will be responding to the prompts with a short story or paragraph.
Constructive feedback only please. These will all be written on the spot with little or no editing so please don't expect them to be perfect.
This Week's prompt: Stress
The weight of the world on my shoulders, too much, all the time. Pressure building, stress levels always rising. Too much to do and never enough time to do it. Lists, responsibilities, jobs, friends, hobbies, always something to do. Take some time to relax? When? More things to do. Think you are catching up when another pile falls on you. Run, keep up, don't get buried, keep your head above the water, match people's expectations. Too Much!
Stop, slow down. Breath. Does it really matter? Is it worth it. Relax, it can wait. Feel the weight lift, the stress disappear. Organise, be logical, or just ignore it all. Feel lighter, happier, finally free!
I know which I would rather do, but all too often we get caught up, there is always something in our lives telling us to move faster, work harder, be better. Try not to let the stress get to you though.
Happy Pondering.